Black Friday through Cyber Monday (November 23-27, 2023) I am doing 20% off + free shipping for the Acoustic Strap Secure. Limited to stock on hand and the lower 48 US States. Shipping charges apply to Alaska, Hawaii and all international orders.
If you would like to purchase the Acoustic Strap Secure, please use the contact form to send me a message with the model and quantity and I will send a PalPal invoice. I hope to have the shopping cart back up and running soon.
Update 2-5-22: I am still looking into bringing back the Acoustic Strap Secure in its entirety but in the meantime I have a run of 38-BMini and M9-BMini that are now available for purchase directly from my website.
Update 2-22-21: The Acoustic Strap Secure is officially sold out and no longer available. If I can find a new manufacturer or another way to bring the Acoustic Strap Secure back I will. In the meantime if you would like to purchase the Acoustic Strap Secure please check Stewart-MacDonald Guitar Supply or Songhurst Guitars/The Rock Slide as they may still have them in stock.
Update 4-11-20: Due to difficulties with my manufacturer, as of now the entire line of Acoustic Strap Secure will be discontinued. I have been seeking a new manufacturer but it has been difficult to find one that will work with me on a small order basis. If anyone has any leads or suggestions please feel free to contact me so that I may continue manufacturing and selling the Acoustic Strap Secure. It has been over 5 years since I sold my first Acoustic Strap Secure. Thanks to everyone for your support.
After purchase please send us a comment including the make/model of guitar and make/model of pickup and which thread pitch you purchased so we can add it to our sizing page.
Shipping will be charged for international orders.
*Fits most "L.R. Baggs" "Fishman" and "Switchcraft" endpin style output jacks.* Strap not included.
Please remember to include your shipping address. Residents of Washington state will be charged sales tax.
The original model is 1″ in diameter and is a little easier to grab for those that want to remove the strap when storing the guitar in a case.
The mini model is 3/4″ in diameter and is for those that want a smaller profile, not quite as easy to grab but still able to remove for storage in a case.
Both models will still fit in most cases with the strap still attached.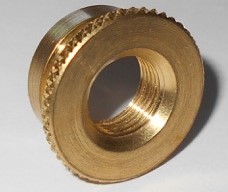 *Acoustic Strap Secure and Marcus Daniels Luthiery are not affiliated with "L.R. Baggs" "Fishman" "Switchcraft" or "K&K Sounds" they are used solely for informational purposes.